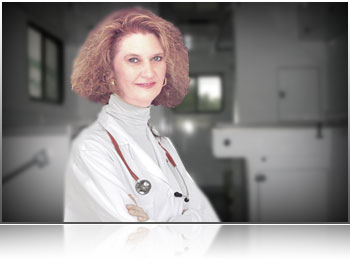 Regina Sanders, VMD
Dr. Regina, owner / doctor of The Purr and Bark, is committed to giving personalized, compassionate and quality veterinary medical care in Raleigh North Carolina to your Pet. After receiving her undergraduate degree from Beaver College in 1993, Dr. Regina received her Veterinary Medical Doctorate in 1997, from The University of Pennsylvania. Penn is known as one of the most prestigious Veterinary Schools in the Nation. Penn is ranked either number one or number two, depending on which poll you are looking at.
Since graduation, Dr. Regina has held positions as an associate Veterinarian, a relief Veterinarian, and an emergency Veterinarian. This means Dr. Regina has acquired a wealth of knowledge and experience in the practice of Veterinary medicine. Although having experience with many different species, including rodents, reptiles, and avian, she now concentrates her veterinary medical care to feline and canine care.
In 2001, after marriage to her husband, who is a native of Raleigh, Dr. Regina relocated to the Raleigh area. Since being in the Raleigh area, she has had the opportunity to further her medical experience even more.
While practicing in standard Veterinary Hospitals over the years, it became more apparent that the need for more personalized service, was the path that she wanted to pursue. The time and quality spent with clients and pets was very motivational in her decision, to offer a more personalized service. This desire spawned the birth of The Purr and Bark Veterinary Mobile Doctor in 2006. Dr. Regina was now able to follow her dream and offer quality service, not quantity service to her clients and patients.
In 2012 Dr. Regina saw the need to open her own stationary hospital, in conjunction with the Purr and Bark Veterinary Mobile Clinic. In January of 2014 the Purr and Bark Hospital opened. This makes The Purr and Bark the only veterinary practice in the area that provides both a hospital and a complete veterinary mobile clinic. Providing her clients a choice, The Purr and Bark Veterinary Hospital or The Purr and Bark Veterinary Mobile Clinic. Dr. Regina's clients now have two options to receive complete, compassionate service for their Pets, the Hospital or their home.
Dr. Regina has a dog and four cats. She also is a foster to two other cats. In her spare time, she is a vocalist in the Swade and Satin Band.
Check out the Doc at: www.swadeandsatin.com